Hi 
Welcome to the new Cleveland Music Connection.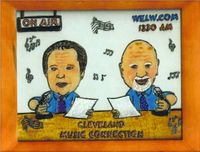 I have been thinking for quite a while how to present some of the archives from my radio days and to present sone of my new projects in a pod cast radio format .. 
So I've decided to start this new series of radio podcasts with some of the highlights of the  late  Fred Grupe and I when we were on welw radio in the early 2000's 
Fred was known by many as a great Loving hearted guy and also for or his  his organizational skills and bass playing  with Abby Rodeo but s also his humor 
Here is a short segment of Fred and I on the radio during the Christmas holidays.
I WILL BE POSTING TIME TO TIME NEW SHOWS WITH ARCHIVES OF SOME OF THE OLD SHOWS WITH MANY CLEVELAND AREA MUSICIANS ABD FRIENDS.